This woodcut was made for 'The Glory of the Garden', an exhibition at the Hastings Arts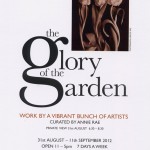 Forum in September. It is a woodcut on birch ply printed on 8 sheets of Nepali handmade paper. I cut too big a picture in too short a time.
Adam and Eve are based on friends in Galicia who have wild gardens that are a paradise. They have squatted an abandoned house and grow food to eat or give away. They are true Diggers of the Earth being a Common Treasury. This picture is a contribution to  changing the story of what is supposed to happen in the world. We can go back into the story of losing Paradise and change it.